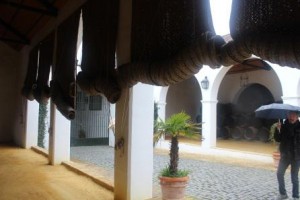 At an hours drive from Casa La Nuez in the direction of Córdoba, you will find Montilla where you can see vineyards. The area is not very big but it is very important for the production of dessert wines.
Here the 'Pedro Ximénez' grape is being cultivated to produce sweet wines and liquors.
In the 16th century Peter Siemens, a German, introduced a new grape variety which is related to the Riesling grape. The plants do very well in hot weather as well as during cold winters and when it rains. They thrive very well in and around Montilla. The Spaniards named the grape after him but baffled it to 'Pedro Ximénez' or 'PX – wines'.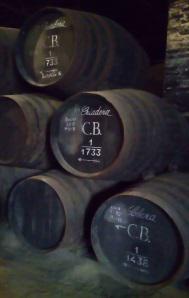 In the centre of the town you can visit the oldest bodega in Andalucia : Bodegas Alvear. Founded in 1729 it is now being led by the 8th generation of the family.
The stately building radiates Spanish tradition and pride and in the bodega numerous barrels are resting in a constant temperature of 27°C, so nice and cool during the summer …
The wines are being produced according to the 'criaderas y soleras' principle which is being explained during a visit.
Although the wines are related to Sherry the people in Montilla are not really happy with this comparison. After the production proces of Sherry wines extra alcohol will be added to reach a percentage of at least 16%. The wines in Montilla reach this level without any extra additions.
Bodegas ALVEAR
Maria Auxiliadora 1 – 14550 Montilla
Reservations : 0034 957 66 40 14  
e-mail : visitasalvear@intnova.com
Visits only with guide : every weekday at 12.30 pm;  starts at the entrance (Spanish guide)
There are guided tours in English, French or German. Ask us to make a special reservation.